Managers Love FieldCap Because...
Key Benefits For Owners & Execs.
It's safe and secure (while Amazon is busy protecting Fortune 500 companies they protect us too) and it delivers these and many other measurable results.
Improved Cash Flow
If cash is King then FieldCap features are the servants that make it happen. When your work is recorded, signed, processed and invoiced faster you keep more of it,
FieldCap Improves Cash Flow By:
Giving your customers easy ways to approve your work
Getting tickets in from the field in real time
Ensuring they are accurate the first time
Making it easy to combine tickets into invoices
Ensuring signed tickets match their invoices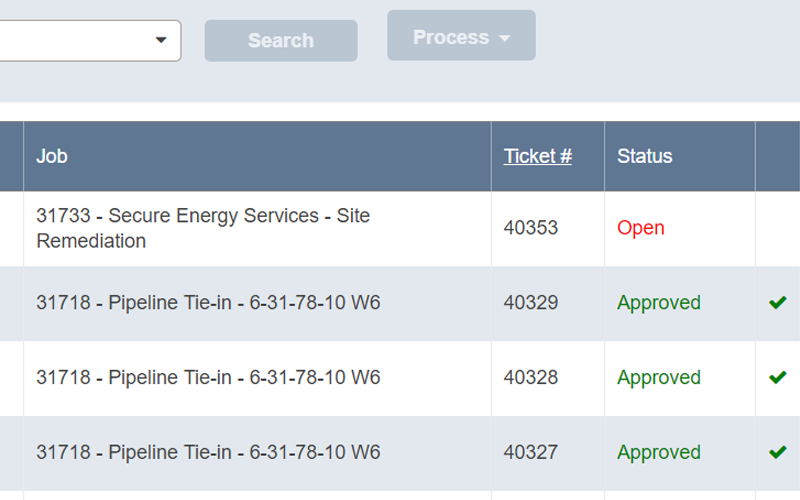 "We have reduced our A/R time by 50%.
At the end of the day it means cash comes in faster and we keep more of it."

Scott Bissell, COO, Tara Energy Services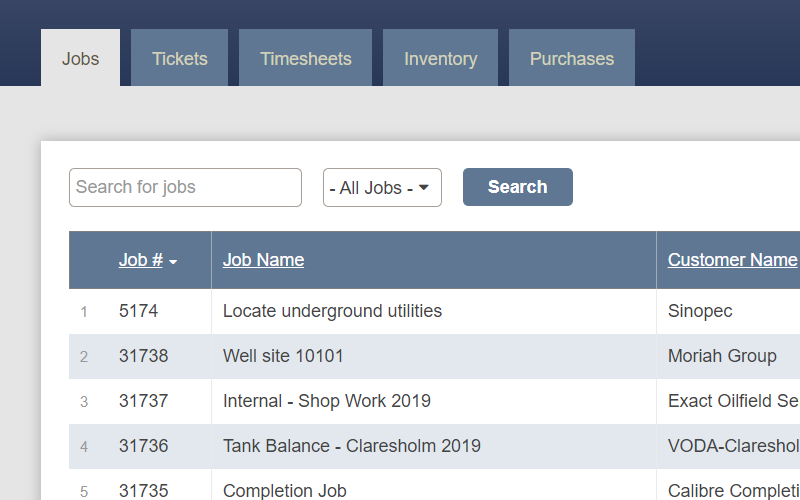 Improved Visibility
Having an easy way to look up everything that drives revenue and profit is a massive win for any growing service business.
Easily search & sort by:
Customer name
Job name or #
Date created
Ticket status
Key Benefits:
Everything in one place
Organised by job and customer
Easy to look up and edit
See the status of tickets
"FieldCap has allowed us to capture field data in real time
and manage jobs more efficiently."

Mike Buker, President, Phoenix Technology Services
Improved Efficiency
Giving your employees easy tools for creating, reviewing and approving tickets and forms reduces administrative time and overhead.
Common Efficiency Gains:
Less time chasing tickets and signatures
Less time entering and re-entering data
Less manual reviewing of data
Faster, more accurate billing
Easier reporting tools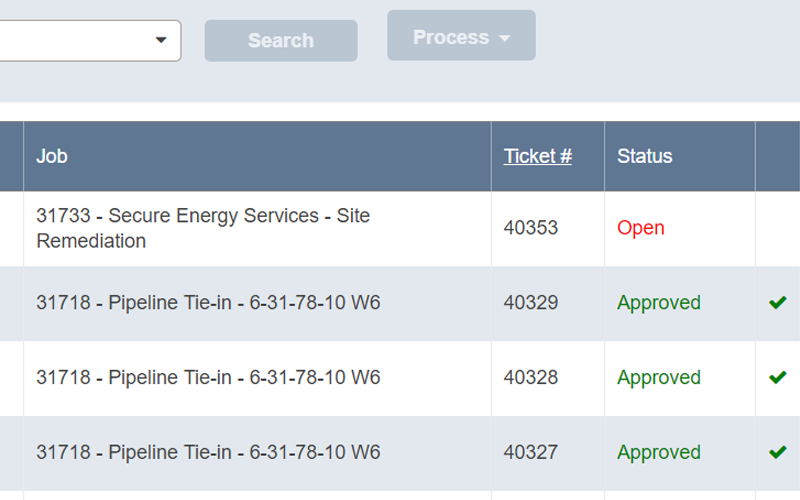 "Implementing FieldCap Software resulted in greater tracking, improved
efficiency and reduced errors in our whole billing process."

Joel Kish, Owner, Inspectrum Testing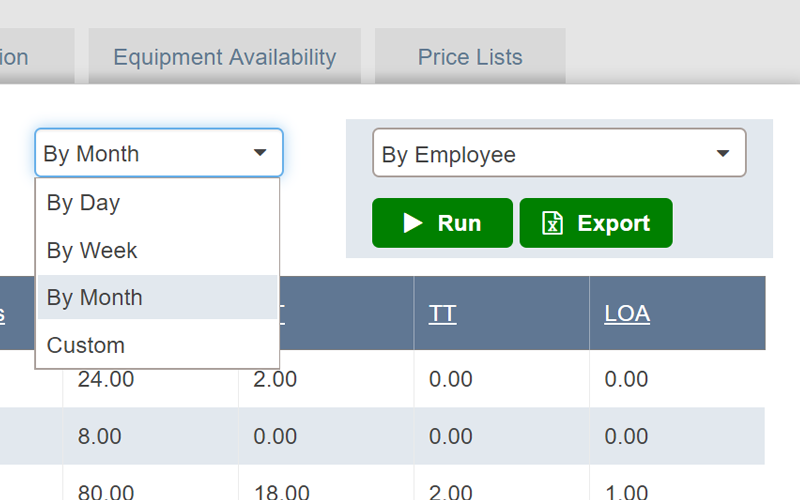 Improved Utilization
Nothing drives profits better than making the most effective use of the resources you have. And that starts with knowing where everything is and what it's doing.
FieldCap Can Tell You:
What jobs are running and who's on them
Where your people and equipment are
What people, jobs, equipment earn the most
What tickets are outstanding
"It is integral not only from a field ticketing aspect but as importantly
from a reporting and cost control perspective."

Paul Poscente, President & CEO, Backwoods Energy Services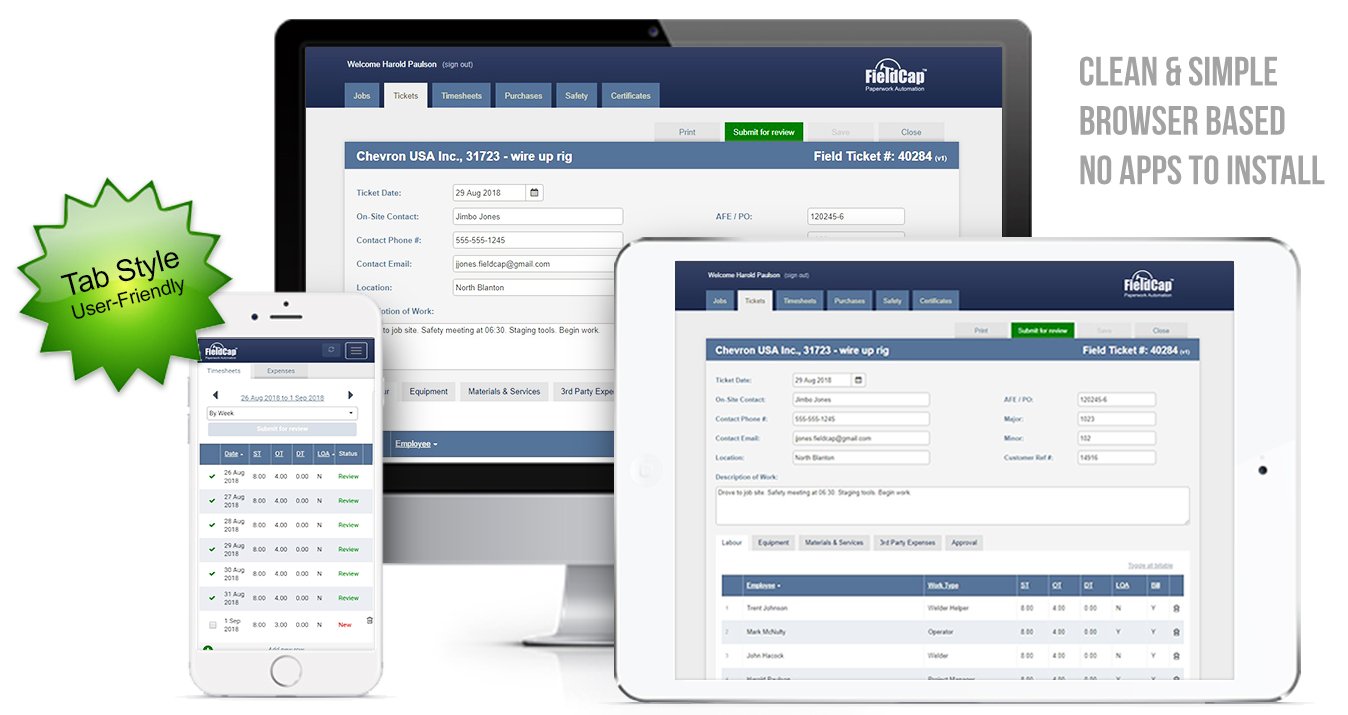 Improved Consistency
With everyone doing the same things the same way you can spend less time worrying about whats getting missed and more time growing your business.
FieldCap Drives Consistency By:
Having more selections and less typing
Auto-calculating based on rates & prices
Managing roles & permissions
"FieldCap has greatly helped to streamline our accounting processes,
both for the people who are entering their job information, as well as for the accounting
personnel who are processing the information."

Erin Damiani, Mountain West Services
Improved Customer Satisfaction
Your tickets and invoices are part of your brand. Just by giving your customer modern options for approving your work and by submitting invoices that match those approvals, you are building greater trust and respect.
Approval Methods:
Digital Signature
Digital Stamp (New)
Remote Approval (Email)
Print/Sign/Attach
Benefits:
All tickets come in signed
Revisions are tracked for reference
Fewer rejected invoices
Happier customers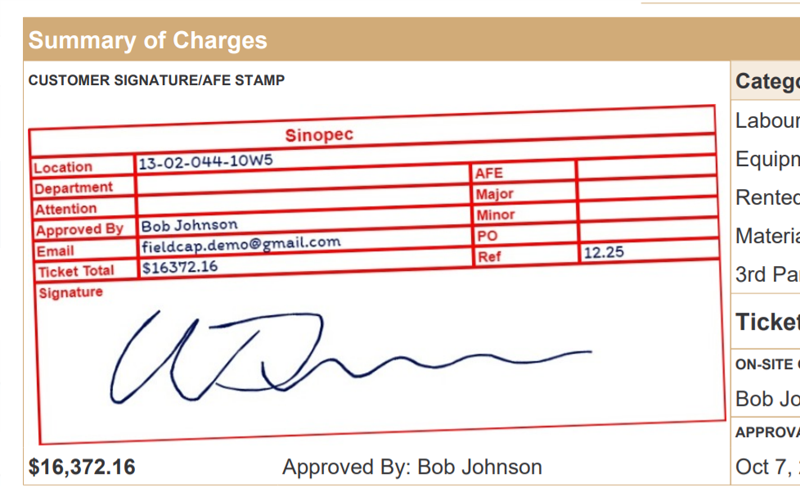 "We have received very positive feedback from our client base as the system
has provided our clients with an improved mechanism to review
and approve field tickets electronically."

Joel Block, Manager, SWAT Consulting
Your Ticket. Your Way.
This is the BIG FieldCap brand promise. It means that every data entry field that you see on the job, ticket, time sheet or any other form - will get configured to match your existing forms.
You Keep Your…
Ticket Layout
Field Names & Lingo
Pricing & Calculations
Logo & Colors
And much more…
Benefits:
Seamless Transition
Less Disruption
Keep Whats Working
Familiarity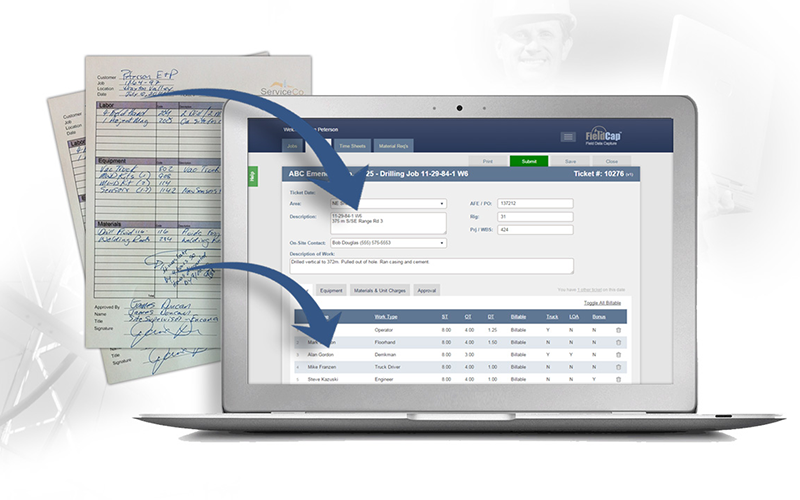 Are Your Tickets Unique Or Complicated?
NO PROBLEM. That's exactly why we created our Your Ticket Your Way approach. Request a demo so we can show you why it has been such a game changer!
Learn how easily you can get similar results.
Request a short online demo and get pricing info today!
Get A Demo & Pricing
Simple. Proven. Loved.
Our story proves that when you focus on doing one thing really well, and treat people with kindness, the results will follow!
0
%
Focused On Oilfield Services
0
Oilfield Tickets Processed