Before FieldCap.
Our customers were struggling with things like...
After Switching To FieldCap.
This is what customers had to say after they made the switch to FieldCap.
"I highly recommend FieldCap's solution for paperwork automation and to help bridge the gap between field operations and offices.

Chad Macumber, Scientific Drilling International

Canada & USA
" Implementing FieldCap has truly streamlined our business and helped us better manage our growth.We have reduced our A/R time by 75%. At the end of the day it means cash comes in faster and we keep more of it."

Scott Bissell, CEO, Tara Energy Services

Canada & USA
"FieldCap has allowed us to capture field data in real time and manage jobs more efficiently."

Mike Buker, President, Phoenix Technology Services

Canada & USA
"We have an average annual growth rate of 185% over the last 4 years and have added over 250 employees. I literally don't think we could have done it (in part ) without FieldCap."

Paul Poscente, President & CEO, Backwoods Energy Services
"Exceptional experience. Radically improved field data collection and storage, allowed us to formalize an approval process and greatly improved billing cycles."

Scott McGarty, Summit Decommissioning Services
"Our old process was manual and labor intensive, with lots of room for error, and we now how a more repeatable and automated system with FieldCap."

Travis Balaski, VP. Ferus Natural Gas Fuels
Examples Of Services FieldCap Is Made For:
Oilfield Construction | Lease Construction | Pipelines | Well Services | Wireline | Facilities | Inspections & Tests | Repair & Maintenance | Equipment Rentals | Environmental | Hauling | Drilling | MWD | Abandonment | Waste Management | Engineering | Fracturing | Casing & Tubing | Containment | Camps | Fluid Management | Safety
"FieldCap has greatly helped to streamline our accounting processes, both for the people who are entering their job information, as well as for the accounting personnel who are processing the information."

Erin Damiani, Mountain West Services
"We have received very positive feedback from our client base as the system has provided our clients with an improved mechanism to review and approve field tickets electronically."

Joel Block, Manager, SWAT Consulting
"We were looking for a solution to simplify the paperwork process and streamline our approval & billing operations. FieldCap was the team we decided to partner with after a process of elimination, and we are very happy we did!"

Jackelyn Rideout, Elite Automation & Technical Services
"We discovered that implementing FieldCap Software resulted in greater tracking, improved efficiency and reduced errors in our whole billing process, we would recommend the software!"

Joel Kish, Owner, Inspectrum Testing
"Field Cap has provided us with an opportunity to be leaders in our industry. Their entire organization is committed to delivering and releasing the best product they can for the customer."

Phil Lambert, President, True North Cranes
"FieldCap software has helped Orbis shorten our accounts receivable turnover by speeding up time entry.  This means more cash on hand to continue to grow our business."

Cody Zaitsoff, Corporate Controller, Orbis Engineering
Learn how easily you can get similar results.
Request a short online demo and get pricing info today!
Get A Demo & Pricing
More from our user survey...
We asked users: What do you like most about FieldCap?
"Very easy to use and learn" Clint Wudkevich – Ferus
"No more paper!" – Philippe Levesque – Backwoods Energy Services
"Ease Of Use" – Vanessa Patterson – Rockpile Energy Services
"Easy to input data and write up field tickets for clients" – Jason Plante – Tier 1 Energy Solutions
"Without any formal training, I was able to learn the system in the field on my own."
– Frank Sullivan – Phoenix Technology Services
"That tickets and days can be copied to reduce the entry time."
– Kevin Hamilton – Orbis Enegineering
"That it is very user friendly and also accessible offline" – Ali Jackson – Mountain West Services
"The tickets contain all necessary information (including safety) in one place."
– Trevor Kempthorne – Rigstar Communications
"Customizable to suit our ever-changing needs!." – Sharlene Sandul – Tara Energy Services
Your Ticket. Your Way.
This is the BIG FieldCap brand promise. It means that every data entry field that you see on the job, ticket, time sheet or any other form - will get configured to match your existing forms.
You Keep Your…
Ticket Layout
Field Names & Lingo
Pricing & Calculations
Logo & Colors
And much more…
Benefits:
Seamless Transition
Less Disruption
Keep Whats Working
Familiarity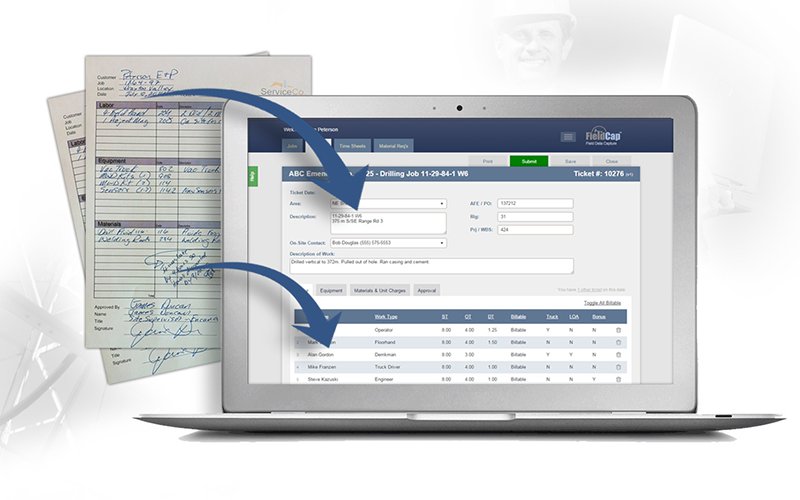 Get big wins for every stakeholder.
Everyone in your world will benefit from simple tools and fast, accurate data.
Are your tickets unique or complicated?
Great news: That is exactly why we developed our - Your Ticket Your Way - approach. It's a game changer. Book a demo today and find out how its done.
Simple. Proven. Loved.
Our story proves that when you focus on doing one thing really well, and treat people with kindness, the results will follow!
0
%
Focused On Oilfield Services
0
Oilfield Tickets Processed