Job tracking & scheduling tools built around life in the oilfield business.
From the time the call comes in until the final invoice goes out everything is tied together in one place for easy processing and reference.
Pricing & Demo
1-Min Intro Video
Say goodbye to painful spreadsheet job boards and clunky shared folders and drives.
Once you create a new job in FieldCap it automatically assigns a new job # and begins storing everything related to that job. Tickets, timesheets, safety forms, other forms etc.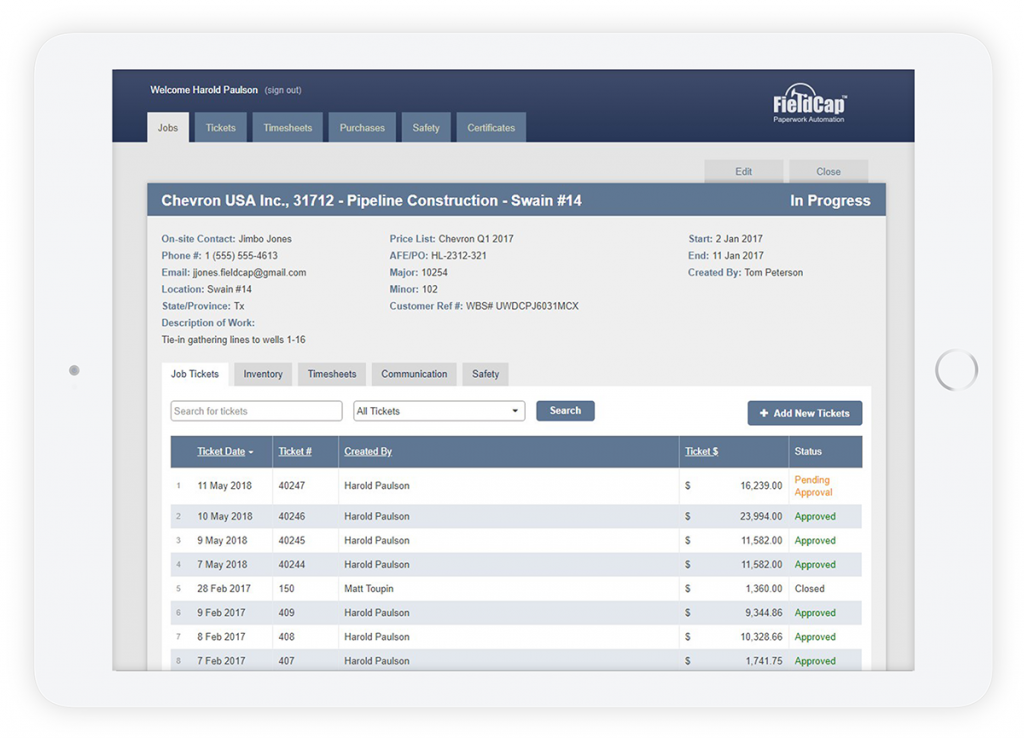 Imagine how much time you will save...
Once you are able to quickly activate jobs, assign people and equipment, and capture all the field data related to that job in one place everything changes.
1. View all your jobs by customer, status, location etc.
Having all your jobs and tickets tied together in a system that gets data from the field in real time gives you unbelievable vision into what is happening  with your business.
Having real-time visibility of all field activities, from anywhere at anytime has made a huge difference to our business. Stephen Baird, Global IT Director Phoenix Technology Services
2. See where your people & equipment are and know what's available.
When you know where everything (and everyone) is at, you can better plan and prepare for new jobs and respond to customer demands as you grow.
Implementing Field Cap software has truly streamlined our business and helped us better manage our growth. Scott Bissell, CEO Tara Energy Services
3. Easily copy jobs and assign people and equipment to new jobs.
Activating new jobs quickly and consistently with an easy-to-use system lets you mobilize resources without bogging down your whole team.
FieldCap has streamlined our field ticketing process and has enabled us to effectively manage the administrative burden of tracking our field activity. Jonathan Scheiner, Solaris Oilfield Infrastructure
4. Auto-generate job #'s so there are no duplicates or errors.
When all your tickets and time sheets are tied to the right job automatically and field staff are selecting items instead of writing or typing, you can trust that everything is correct all the time. This greatly reduces the need to constantly review everything for errors.
We discovered that implementing FieldCap Software resulted in greater tracking, improved efficiency and reduced errors in our whole billing process, we would recommend the software! Joel Kish, Owner, Inspectrum Testing
5. Assign pricing, AFE's, codes, contacts etc. per job and feed to all tickets.
When field staff don't have to re-enter job, customer and pricing info for every ticket because it is already there speed and accuracy go way up and they spend more time doing their actual work.
We are very happy with Field Cap. It has reduced our error rate, increased our efficiency, and the guys in the field love it! Paul Poscente, Executive Chairman Backwoods Energy Services
6. Get daily email summaries of job activities or alerts and messages from staff
Get the information you need, when you need it. No need to hunt around through emails and tickets to try and get a sense of what's happening across your teams. FieldCap will tell you!
I highly recommend FieldCap's solution for paperwork automation and to help bridge the gap between field operations and offices. Chad Macumber, Scientific Drilling
Have more questions?
Give us a call and talk to an expert right now.
Pick our brains. We're used to it.
Call 403-275-2617
Book your private tour!
Book a free private online demo. See it in action, ask questions and get information about pricing and set-up times.
Request A Demo
The MAJOR FieldCap difference is...
Every client gets their own uniquely configured instance of FieldCap. That means you can tailor FieldCap to reflect the way you do business. We can match every data entry field that you see on the job, ticket, timesheet or any other form - with your existing forms and processes OR the ideal state you are after. We can even customize the print version of your Tickets and Invoices so that clients see exactly what matters most.
Amazing Customer Results
These oilfield service companies used FieldCap features to make big improvements.

Paul Poscente, Executive Chairman
Backwoods Energy Services

Scott Bissell, CEO
Tara Energy Services

Chad Macumber
Scientific Drilling

Travis Balaski, Vice President
Ferus Natural Gas Fuels

Erin Damiani
Mountain West Services
Get similar results in as little as 30 days!
Find out exactly how YOUR FieldCap will save you time and money and impress your customers.
Get Started
Simple. Proven. Loved.
Our numbers tell a great story about focus, results and delivering killer customer service.
0
%
Focused On Energy Services
0
Tickets Created By Customers
Do you like what you are hearing?
Thousands of oilfield workers use these simple features to get work done faster and more accurately. See them in action...
Demo & Pricing