5 Cool Web Apps That Have Kept Us Fully Operational During COVID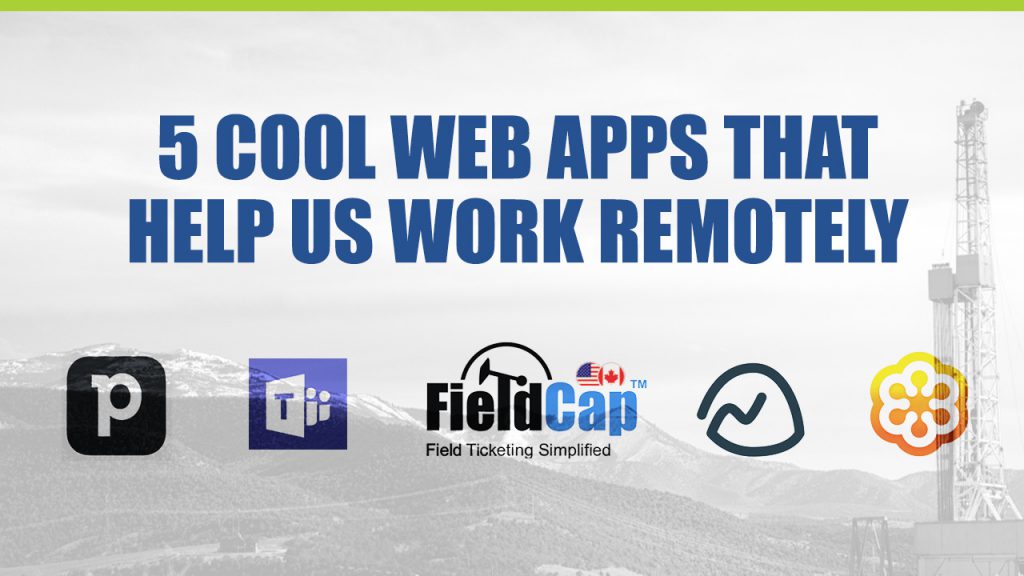 Our entire team has been working from home and we haven't missed a beat.
Here are 5 cool web apps that have helped us get our work done, maintain our customer service and stay connected as a team.
1. Microsoft Teams
We weren't always the biggest Microsoft fans but we have to admit that their Teams environment has come a long way and has been invaluable now that we are all working remotely from home.
It has a lot of useful features for sharing and storing files and chatting about them, but what has been most useful during this time is the built-in voice and video conferencing. We use these features to start each day with a virtual stand-up meeting. This short meeting has kept us connected, social and aware of what each other are working on.
Our Morning Virtual "Stand-up" Meeting
Following the simple and timeless "Daily Huddle" format made popular by Vern Harnish in Mastering The Rockefeller Habits we get a brief update from each team member using the following questions:
What did you work on yesterday?
What are you working on today?
What are your roadblocks? (Do you need anything from anyone else?)
This is a great way to stay connected with a team, establish a rhythm and has become something we all look forward to each day.
2. Basecamp
We've been using Basecamp forever. We love their software and their philosophies around simplicity. We even read their books about business and product development and they shaped how we built our software and our business.
Basecamp is a simple project management tool based on the idea that good PM really boils down to communication. So this is where it really shines. It is particularly good at getting communication and file sharing out of email and into an organized central location threaded inside the project.
We have used Basecamp for tracking client communication related to implementations of our software. It keeps us out of clunky email chains and streamlines all communications.
We love Basecamp the software and the company. They are our hero's.
3. Pipedrive
Pipedrive is the tool we use to capture and track all new sales leads. When potential customers request demo's or contact us through our website they are automatically added as a new contact and we can then track our progress as they move through our sales process. This has proven extra-valuable when we are all working remotely. At a glance we can know the status of all of our sales leads, see all related email and phone communication and determine what the next steps are.
We like Pipedrive because it is clean and simple and helps us stay organized.
It is also very flexible and lets you set up your sales process or funnel the way that works for your business.
We set our funnel as follows and we simply drag new deals form stage to stage accordingly:
New Lead In
Contact Initiated
Contact Made
Qualified
Demo Done
Proposal Delivered
Negotiations Started
It also has some great reporting and forecasting tools but the real value for us amid the COVID crisis has been the tracking of communication and next steps across team members and deals.
4. Gotomeeting
Gotomeeting is another invaluable sales tool. We support customers all over North America and each engagement begins with demo's of our software. When we can't be in person to do demo's Gotomeeting makes online demos a snap. There are lots of apps out there for this kind of screen sharing and talking but we like Gotomeeting. It is easy to use for us and for customers.
Once we line up a time for the demo we simply create a new meeting. It automatically updates our calendars and sends our potential customers meeting invitations that includes the link and login information for the demo.
Probably 85% of our customers began their journey with an online demo so we're very grateful that this tool is as simple and bullet-proof as it is!
5. FieldCap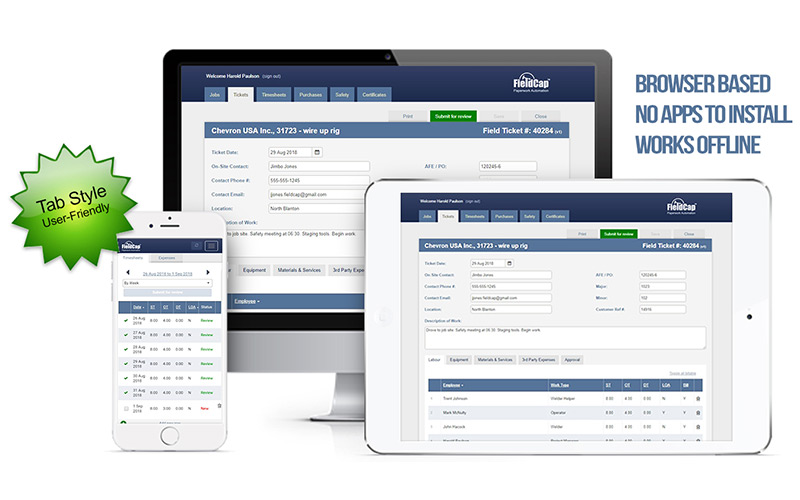 Yes. We eat our own dog food!
This may seem like a shameless plug but the same software that has helped our customers in the oilfield business work remotely has been helping us as well.
We use FieldCap internally to meet the same objectives our customers hire us to meet:
Record and track our work
Get work approved by customers
Convert work into invoices
Run reports easily
Get paid faster!
Because FieldCap is web-based it doesn't care where we are or what devices we are working on. (for our customers it also works offline when there is no internet)
Because we use FieldCap we can see at a glance how all of our jobs are going, what work has been approved and billed and where are costs are at for each.
And, using our own software keeps us that much closer to our customer experience so that we can keep improving and simplifying.
---

Made For Oilfield Services
Learn how you can get organized faster than you think and without a massive project.