Results from our – Support A Local Restaurant – team challenge.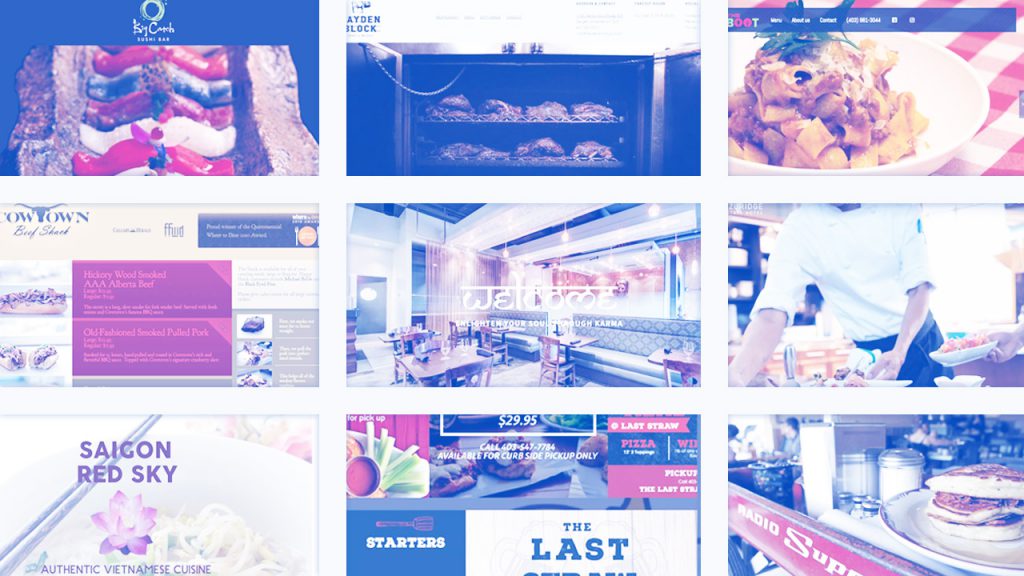 The Challenge
The challenge started when our President Brad Peterson sent out a company email encouraging everyone on the team to find a restaurant in their community who is making a go of it during this challenging time by offering pick-up orders and delivery service. The dinner would be paid for by the company with a few conditions.
This is a tough time for any business, but restaurants are among those who literally had to close their doors over night. I figured this was a way that we could help them out a bit and have fun doing it. And it was fun! Brad Peterson, President
The basic rules were:
Pick a restaurant in your community who's story you like
Try to pick a small/private one (vs a chain)
If possible avoid 3rd party delivery services (as they take a %)
Send in pictures and a story about why you chose the restaurant and the experience you had.
Share your experience with others
The Results
Great food delivered with a boatload of gratitude!
These local Calgary & Area restaurants are providing delicious meals safely and were VERY appreciative of our support. Every team member who participated really enjoyed the experience and felt really good about helping out other businesses who are working hard to make the best of a tough situation.
Check out their stories below…
---
1. Big Catch Sushi Bar
Calgary, AB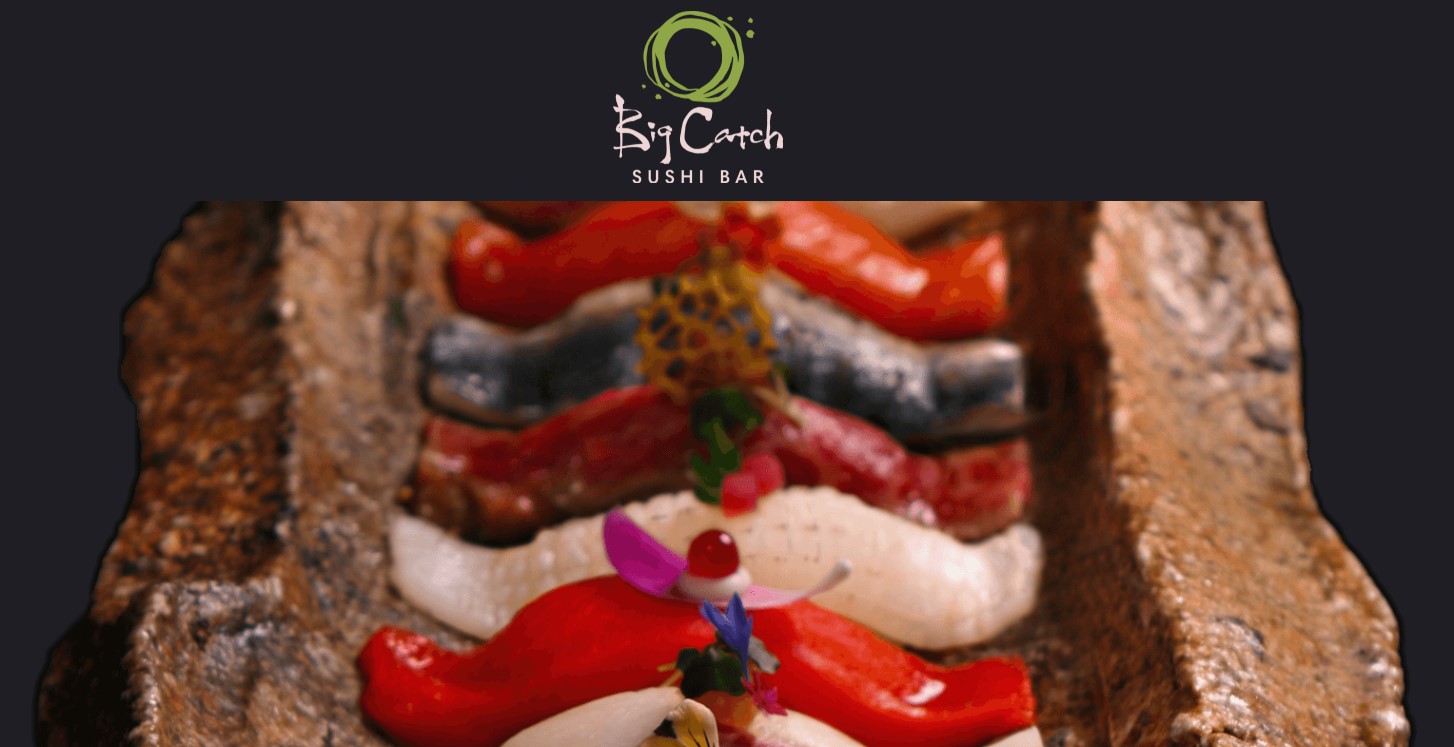 FieldCap Team Member Review:
We ordered for pickup from Big Catch Sushi, which actually has a lot of great vegetarian options. They are a small shop, and actually started out in a farmer's market. We had been there when they first opened at their current location a couple years ago. We were very impressed with the presentation and how good the food was. This is a picture of a note they put on the order. It clearly meant a lot to them.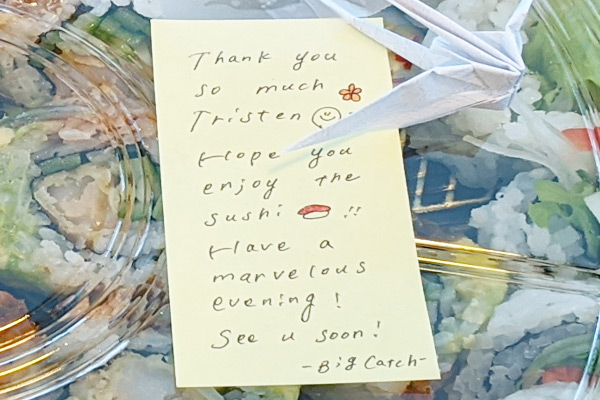 ---
2. Hayden Block
Calgary, AB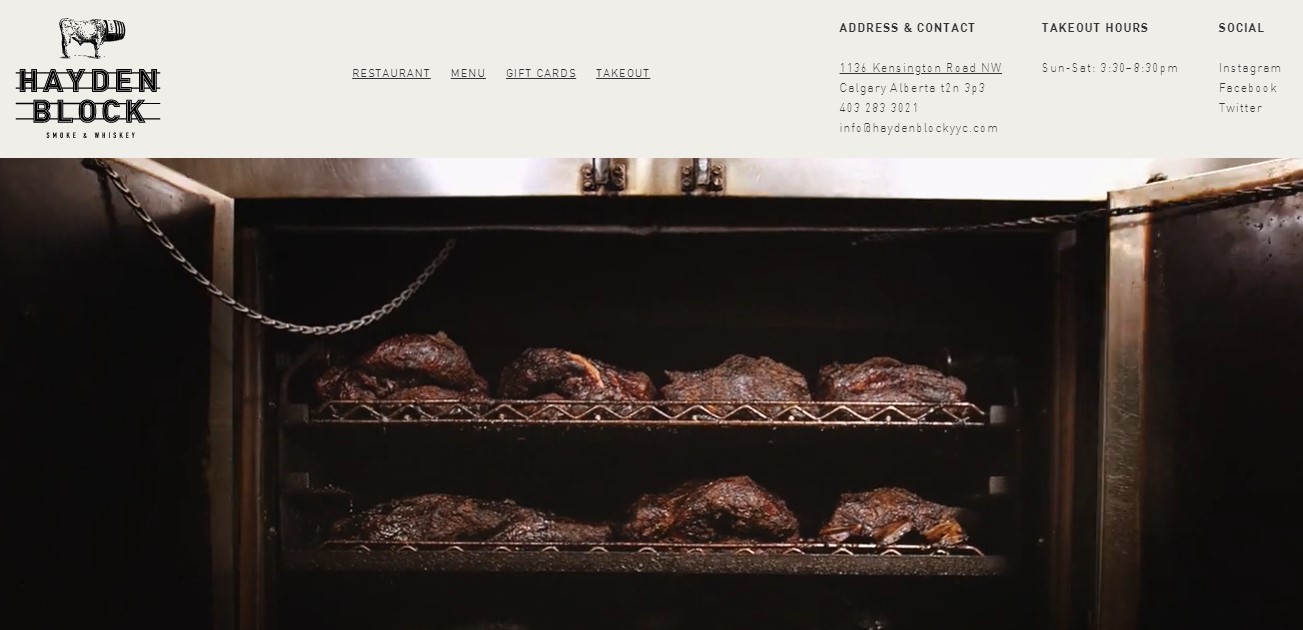 FieldCap Team Member Review:
It's a smokehouse and whiskey bar offering some pretty impressive cuts of meat. We had the brisket, maple smoked pork belly, broccoli salad and baked beans. We opted for the pickup option, but they do deliver within a 10 minute radius of the restaurant. It was neat because they used a window behind the bar that faced the sidewalk as a pickup/order window. Very tasty meal… meat sweats may have occurred.
---
3. The Boot
Cochrane, AB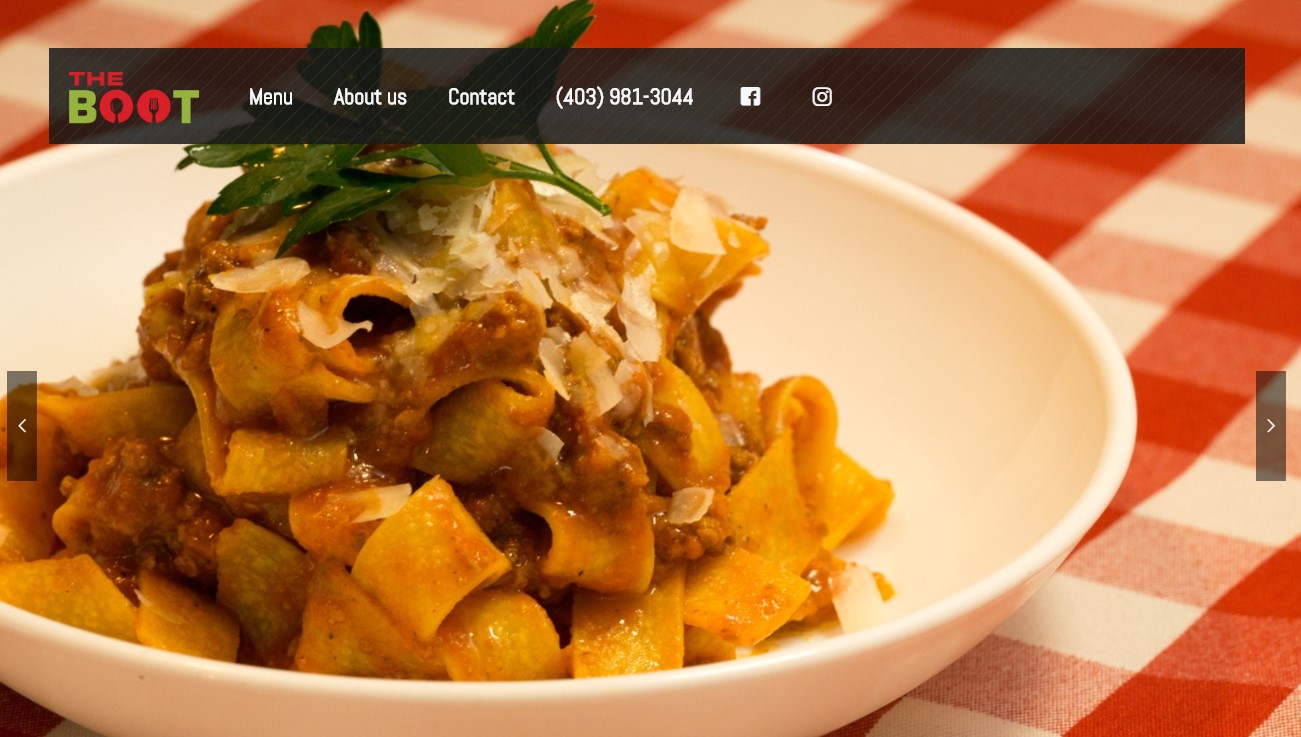 FieldCap Team Member Review:
We chose this restaurant because it's probably the smallest, but best restaurant in Cochrane. It is a small restaurant and is operated by a kind old Italian couple. When I ordered the owner said that the pin terminal doesn't always work when he's too far from the restaurant but he will try, so when he came it didn't work. He then very kindly offered for me to just come in any time and pay either in store or send an e-transfer. I thought that was very nice. I chose to drive and pick up my order. While I was there, there were a few orders on the board and the phone kept ringing so it looks like the community has their back. The food was amazing. Thank you!
---
4. Greco's
Calgary, AB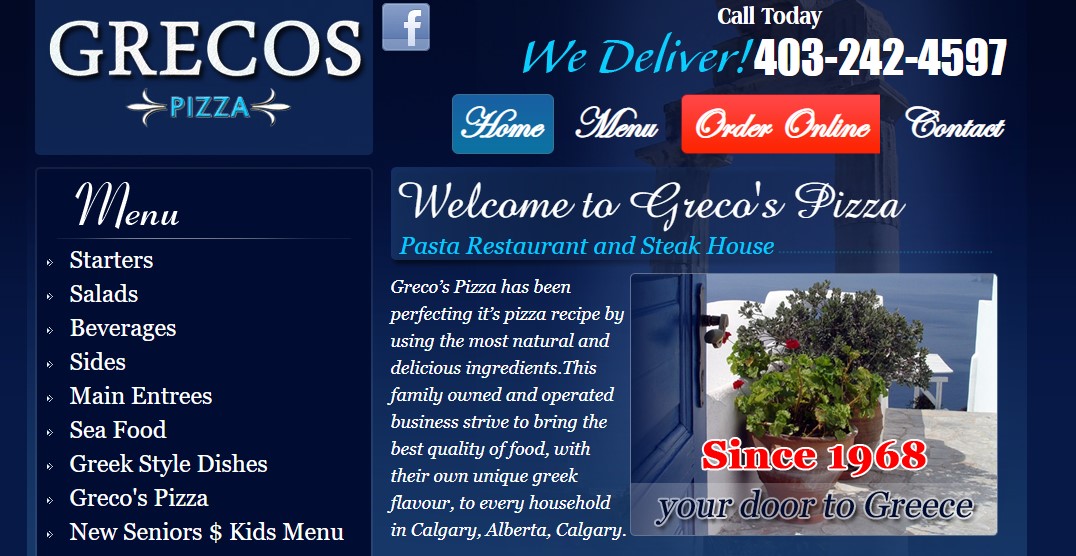 FieldCap Team Member Review:
I chose to order from them because I wanted to try find a place that is local to my part of town specifically. I like old fashioned steakhouse food. They were offering a classic (but surprisingly rare) dish that I had to try: Steak and Spaghetti. Typically I have to custom order this dish, but they were offering it as an ordinary option. They also had some pretty good sautéed mushrooms on the Spaghetti. Overall, I was very happy with the food and delivery speed. I will definitely order from them in the future.
---
5. Cowtown Beef Shack
Calgary, AB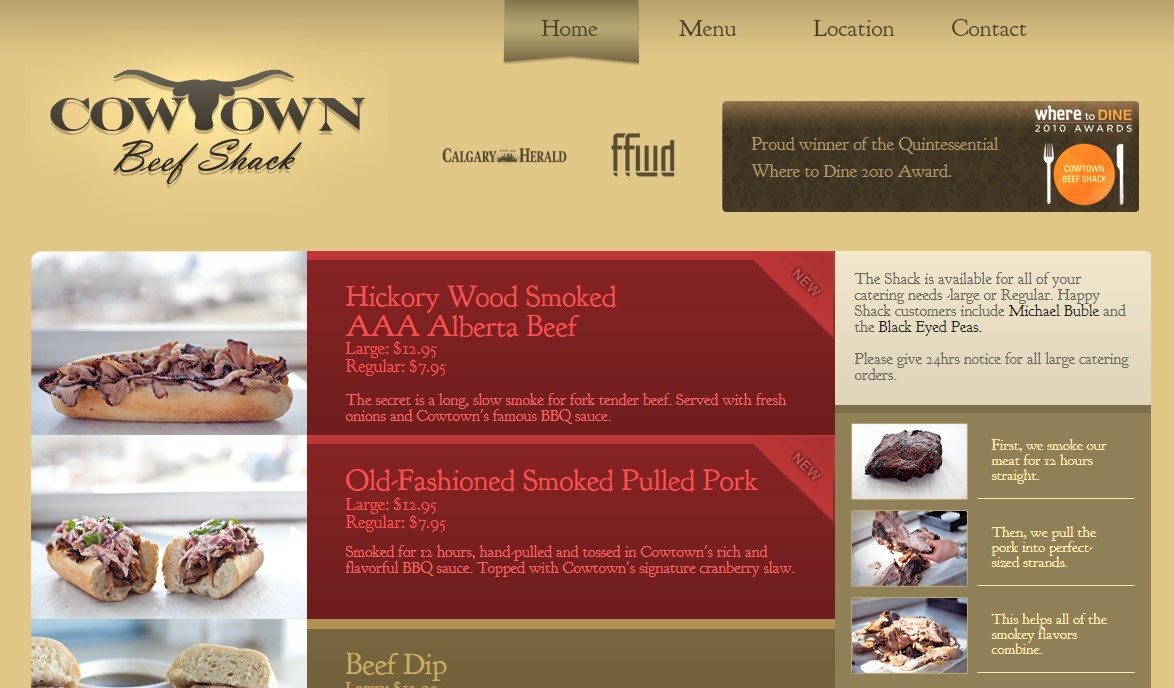 FieldCap Team Member Review:
I choose to go to CowTown Beef Shack, for their smoked meat sandwiches. They were amazing and gave us extra toppings for free! I will definitely order from them again. Yum!
---
6. KARMA
Calgary, AB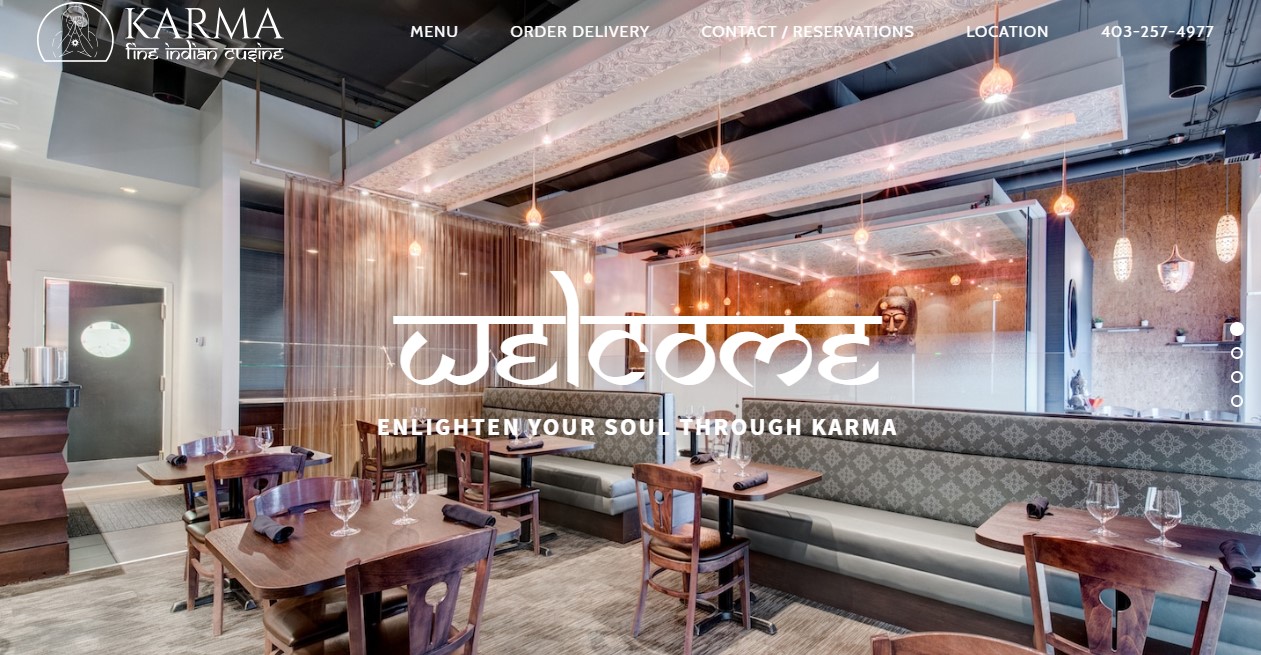 FieldCap Team Member Review:
We ordered from Karma Fine Indian Cuisine. It was really good. Especially the butter chicken! They use a delivery service so we chose take out instead.
---
7.Azuridge
Priddis, AB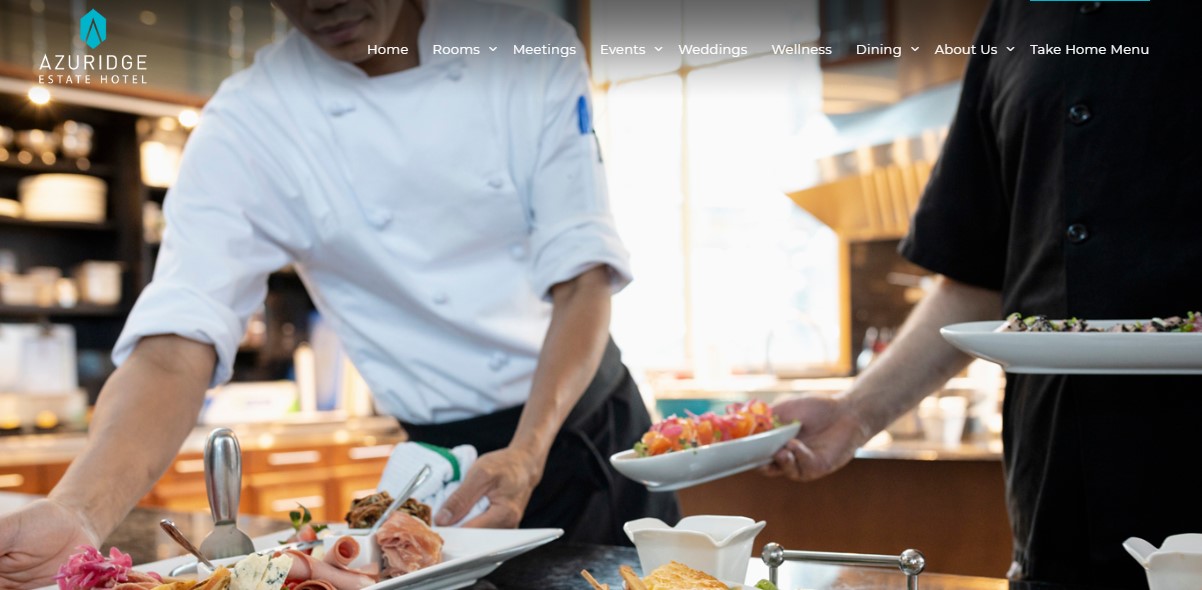 FieldCap Team Member Review:
The restaurant we chose was Azuridge. It's a local hotel in Priddis that used to be a private estate. It's a rare jewel of a property that is now privately owned and open to the public. It's an upscale place that's good for a special occasion or a romantic dinner. The food is fantastic and the facility is amazing!
---
8. Tamarind
Calgary, AB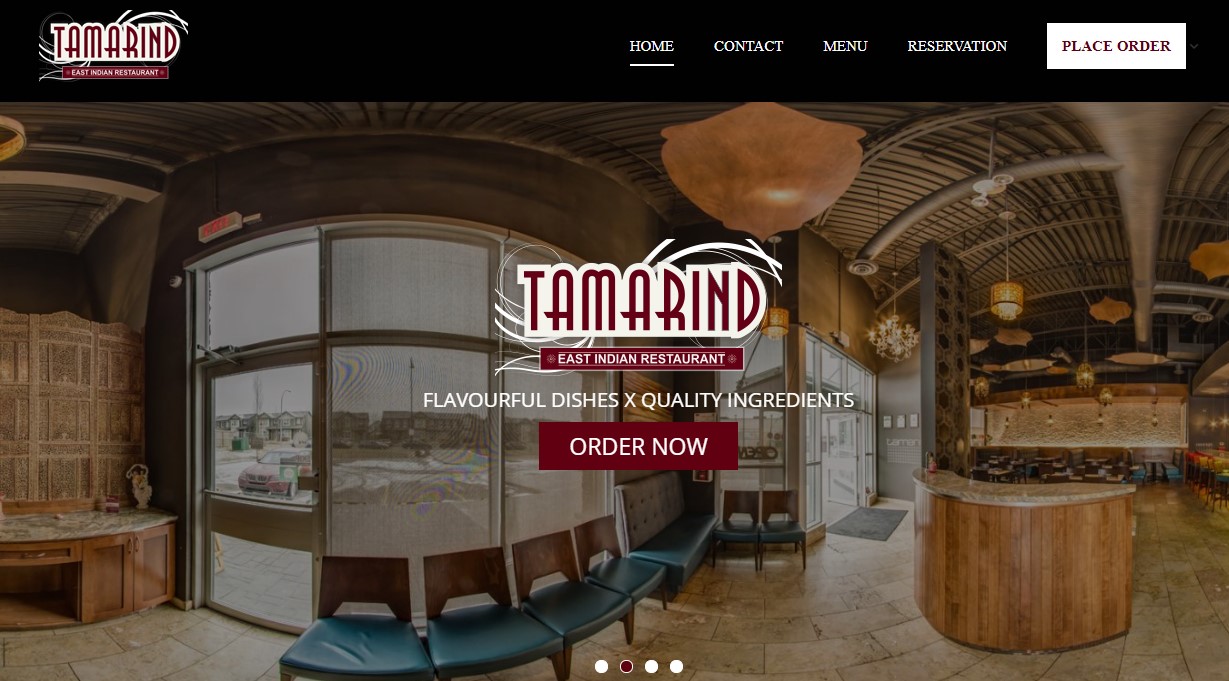 FieldCap Team Member Review:
We ordered from Tamarind, a family-owned and operated East Indian restaurant. They use their own authentic family recipes and they are delicious. They have both pickup and delivery and they were very grateful for our support!
The owner also included a nice note for us:
First of all THANK YOU VERY MUCH for your help towards our restaurant. Really appreciated. All dishes in our restaurant are made every day in fresh. If you have any more questions, please let me know. Again Thank you very much for help in this pandemic situation.
Regards,
Ashish
---
9. The Last Straw Ale House
Calgary, AB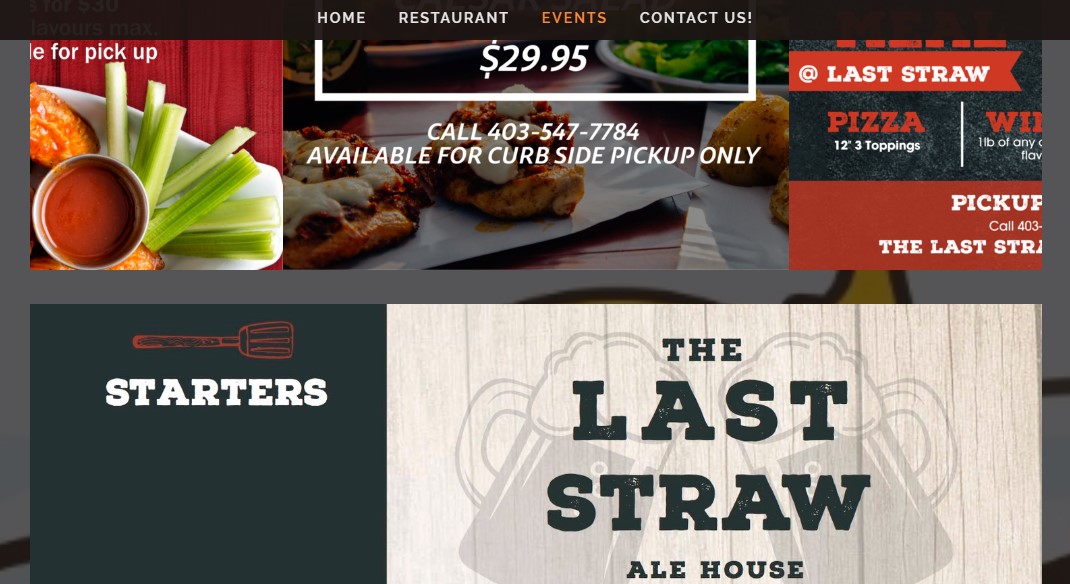 FieldCap Team Member Review:
We chose The Last Straw Ale House. They are local to our community and have been around for 17 years. They always support local events and are very responsive to suggestions from the community. I've gone there for many meetings, lunches, book clubs and drinks. The do have skip the dishes and door dash options but we chose the takeout option to support them. They were one of the first restaurants advertising what they're doing for lockdown.
Highlights:
– Minimal staff in their restaurant
– Friendly curbside pickup
– A table set up outside where they place your food for you pickup and pay
– They have family meal specials and growler refills
---
10. The Red Wagon
Vancouver, BC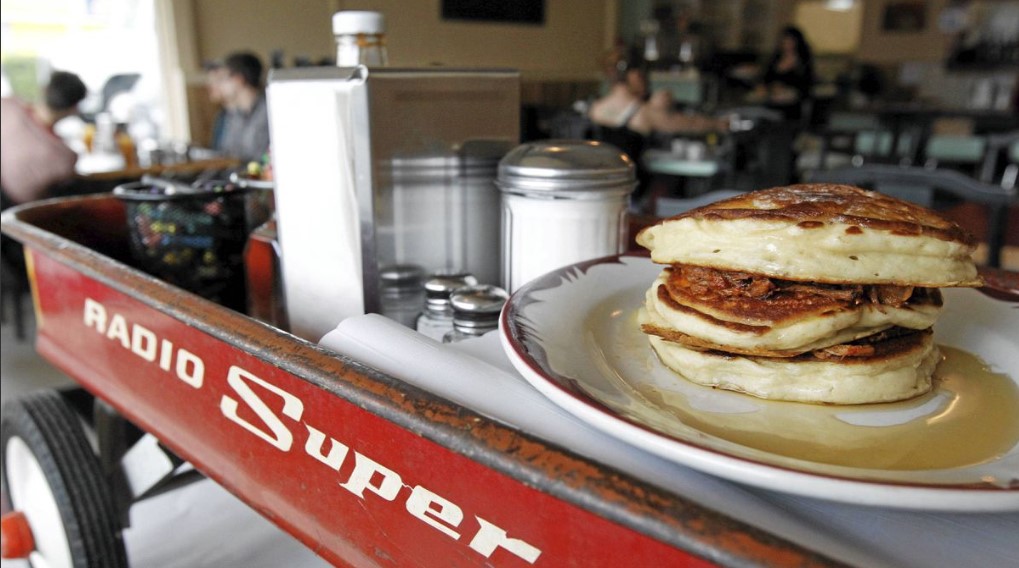 FieldCap Team Member Review:
I wanted to support a place that I know is having a hard time. I had gone for brunch at their previous location a few blocks away on Dundas a few times in the past. The food was great and the staff were always friendly! They recently moved to a larger location on Hastings so the timing of this ordeal couldn't be worse for them. They're now operating on reduced hours with two employees, and only allowing one customer to wait inside at a time. I had a delicious pulled-pork sandwich and the owner thanked me for supporting his business. 
---
11. Saigon Red Sky
Calgary, AB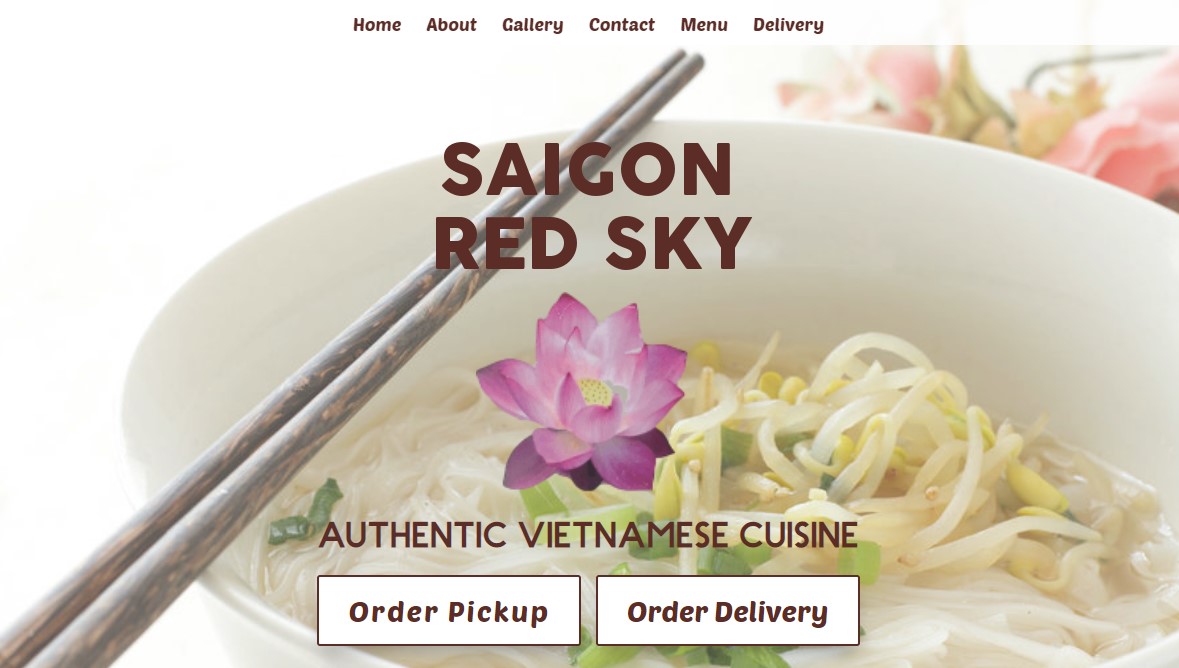 FieldCap Team Member Review:
My wife and I ordered a nice meal from a Vietnamese restaurant called Saigon Red Sky last night. This was the 2nd time I have ordered from this restaurant and the food was as delicious as ever. They didn't offer delivery at all so I just zipped over to pick it up after calling.
---
12. Spiros Pizza
Calgary, AB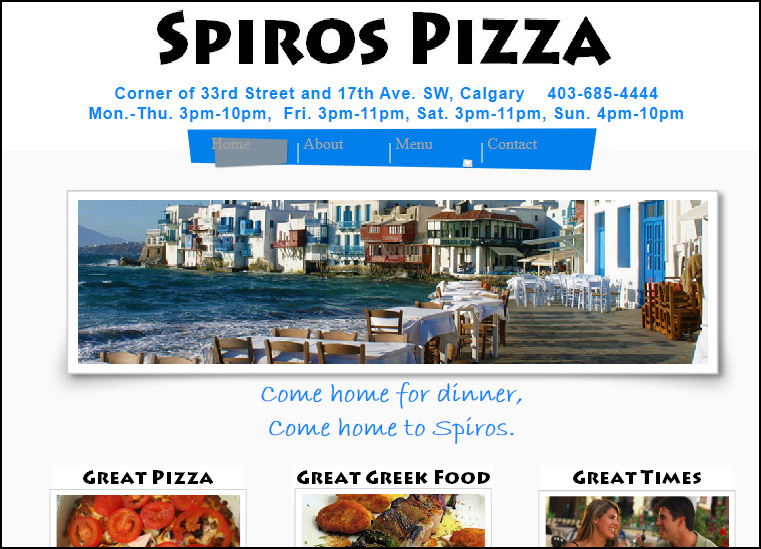 FieldCap Team Member Review:
I ordered from Spiros Pizza. I first went there over 20 years ago and it is exactly the same. I wanted to support them because they are a family business that has been a fixture in the community forever. Everything they make is amazing bit this time I ordered pizza. I chose to pick it up and was please to find rubber gloves, masks and distance being implemented in their pick-up process. They were so happy and grateful for my ordered they tried to refuse my big tip. But I eventually won that argument!
---
13. Matador Pizza & Steakhouse
Calgary, AB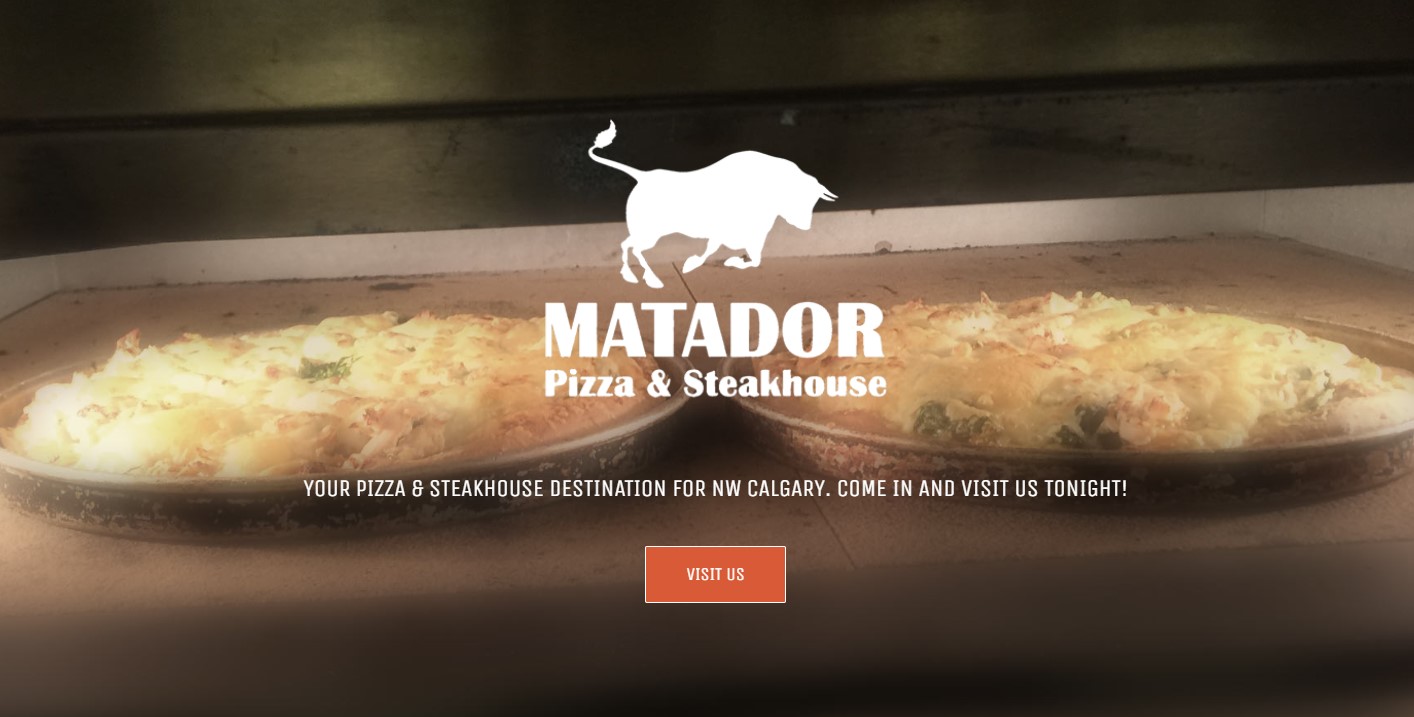 FieldCap Team Member Review:
My family choose to order from Matador Pizza & Steakhouse in Varsity. My son ate there recently with a hockey teammate and his family. This is a family restaurant that also gives back to the community (as indicated on their website & confirmed by his teammates family), therefore he felt we should support them, We ordered the Pizza & Lasagne Meal with a side of Chicken fingers & fries. It was really good food.
---
Help Us Spread The Word
Like and share this story to inspire others to support local restaurants.