3 lessons we learned in the Telus Accelerator program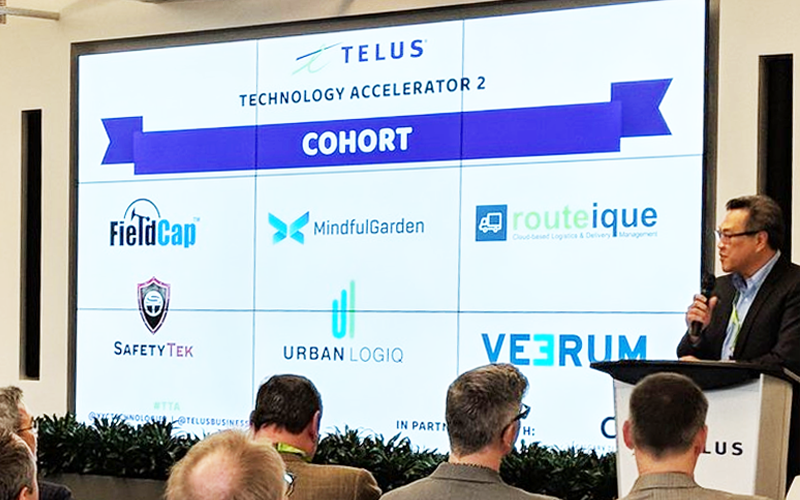 We were fortunate to be selected by TELUS as one of six companies who received 6 months of advisory and mentorship. The advisers and mentors came from both TELUS and the Alberta Innovates organizations and spanned numerous aspects of entrepreneurship including market analysis, branding, sales forecasting, and marketing.
As with most things in life and business, the value you receive is directly proportional to the effort put in – and with our co-founder Tom Peterson I definitely put in some serious time and effort.
So it was not surprising to me when other teammates and colleagues invariably asked about the ROE (Return On Energy) of participating in such a program. So, for those who are interested and for new companies considering whether they should get involved in such a program, here are my big 3 lessons from my time in the program.
1. Getting honest feedback from experienced people outside your business is invaluable.
A big challenge for any small business is that it's often hard to decide what area of the business needs to get better most at any given time. Working in the Telus program helped us quickly focus in on our biggest challenge of the day – sales. Through the early days of the downturn in the energy industry our primary audience was hit hart and sales were slow. So while we entered the Telus program with stress in lots of different areas "winning new business" was the #1 priority.
So how did we get better? The mentors and group work in the program helped us zero in on the key factors affecting our sales efforts and focus on the ones we could control. We could not control the market conditions, but we could find pockets where money was still being spent and earned by the oilfield services companies we are after. So the first thing we worked on was our message – who we were and what we did for clients. It sounds fundamental but feedback from our TTA2 advisors helped us see how prospects may not understand our offering as well as we thought.
Our program mentors helped us see that our brand still reflected our "scrappy start-up" days when we were more of a custom software shop than a mature software product company and helped us identify some subtle tweaks to get more on point.
In one example we changed our tagline from "Paperwork Automation" to "Field Ticketing Simplified" and some related messaging and imagery and almost immediately we saw a change in the quality of leads coming to us through our website. The total number of leads went down but the quality of leads went up.
This was a subtle but important win. While it actually resulted in fewer demos, prospects better understood our value proposition as they entered our funnel and that led to closing more business. In the last two months of the TELUS TTA2 program we achieved almost half of our full 2018 target and we increased our sales funnel by 800%, giving us visibility to deals we may close in Q2 and Q3.
2. Always be open to new perspectives and ways of doing things
We were fortunate that our advisers had experience with the energy industry as well the software business, so they understood our audience. Beyond our messaging tweaks, they also encouraged us to re-examine how we view the market and who we should target. They recommended that we start by reviewing our existing base of clients and determine where we wanted to focus our effort going forward.
So we rolled up our sleeves and did the work – analyzing market information and our own success factors along with information from web analytics and feedback from our clients. This led us to create a market segmentation strategy and a detailed budget that showed how many of each client type we would need to hit our 2018 target. It was a forecast (a guess) but it allowed us to also plan the timing of our marketing effort and the potential trigger points for when we would need to hire (or not) additional resources.
This was a big step up in our planning process. We ended up changing our marketing spend and cancelling some expensive advertising that wasn't driving the behavior – demonstration requests – that we really needed. We were able to re-allocate those resources to areas that were working better. We saved money and improved sales at the same time.
A good adviser or mentor can be worth their weight in gold if they can provide timely, relevant advice in a manner that you can understand.
Like any "free" advice, the real benefits can only be reaped once you take action. Just like a coach or trainer can tell you what needs to be done but YOU HAVE TO DO IT.
3. Take advantage of any program or opportunity you have to get better.
Would you do it again? Ahh, the ultimate benchmark and client satisfaction question. The short answer is yes. But… we are different company already, and the benefits of the TTA2 program wouldn't be the same in a second go. We would still participate, but for different reasons and with a different set of objectives.
FieldCap is a better company for having participated in TTA2. We now have a better understanding of the market we serve, a more refined and effective brand message, and a tighter business plan. Oh, and we are making more money!
So, yes, we would do it again and we would recommend others to participate if they are in a similar stage of their own evolution as a company.
Be open to help and new ideas from anywhere. Take advantage of any program or opportunity you have to get better. But most importantly, be prepared to take action and do the work. It's always worth it!
Sincerely,
Donovan Volk, VP Sales
Questions or comments? Feel free to reach out to me any time.
Call 403-275-2617 or send a message.